At Finca Savantry we strive into producing our extra virgin olive oils "Oli des Pla" and "Aceite Savantry", from Picual variety. Located at the heart of Mallorca, Finca Savantry with its 3500 olive trees is always open to anyone who would like to experience how we elaborate our olive oils or wish to celebrate a special occasion with us.
The Picual is one of the most common varieties in Andalucia. However, it is in Mallorca, caressed by the soft Mediterranean wind, where this variety softens its flavor and its typical piquant notes, resulting on a different olive oil, combining tones from both lands.
Our production of olive oil is limited. A highlight among its most important properties is its high concentration of oleic acid and polyphenols, which makes it the most heart-healthy of all olive varieties and the one preferred by gourmets and olive oil experts. Moreover, extra virgin olive oil (EVOO) has great antioxidant and anti-inflammatory properties. It is recommended as part of different meals during the day and, thanks to its concentration of acids omega 3, omega 6, and omega 9, EVOO is the key of the healthy "mediterranean diet".
The olive oil Oli des Pla, picual variety, has been widely recognised for its maximum quality with the designation of origin "Oli de Mallorca". Over the years, the taste of this extra virgin oil has been awarded with the Gold Medal at the Japan Olive Oil competition in 2014, a Golden and Silver medal in the 11th and 13th Global Oil Competition editions respectively, and a Gold Medal at the renowned contest TerraOlivo 2016, the competition with the greatest amount of samples presented and analysed in the East Mediterranean and Asia, held in Israel. In recent years it has won the Gold medal at the Olivinus 2016 competition in Argentina, and Prestige Gold award in TerraOlivo 2017, getting the Best Packaging Design prize too.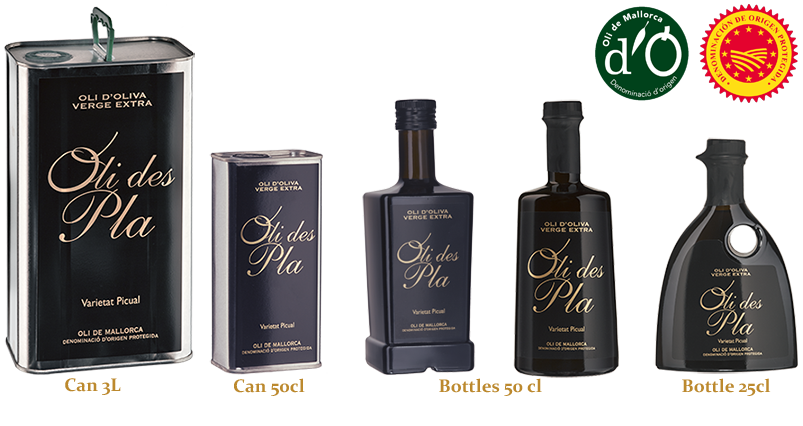 Oli des Pla gift box
Apart from the bottle and can formats, our olive oil is also available in a limited edition gift box containing a 3-liter tin can and a 25cl bottle. A perfect opportunity to enjoy our best olive oil in a unique setup. More information can be inquired via our contact form.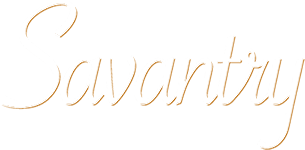 The olive oil Savantry, obtained from the same picual variety as its brother Oli des pla, follows the same quality standards both in terms of process and the final product, and keeps the same features as a superior-quality extra virgin olive oil. For that reason, it has been included in the designation of origin "Oli de Mallorca". Among its awards include Gold medal at the TerraOlivo 2016 contest held in Israel, Prestige Gold and Design & Packaging awards from the Olivinus 2016 competition held in Argentina. During last year 2017, Savantry was awarded Silver medal at one of the most prestigious  international competitions, the NYIOOC in New York, and Prestige Gold and Best packaging design awards in TerraOlivo 2017.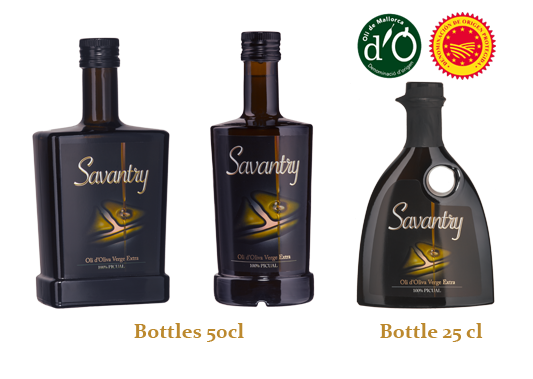 The estate
The special location of our olive trees at the heart of Mallorca allows producing a mildly flavoured olive oil where the typical spicy tones of the picual variety are nearly neglected. Among its most important properties, its high concentration in oleic acid and polyphenols makes it the healthiest variety of olive, preferred by gourmets and connoisseurs in olive oil. Moreover, the extra virgin olive oil has a high anti-oxidant and anti-inflamatory effect, specially recommended to people with high colesterol, high tension, diabetics, or a sedentary lifestyle. A daily consumption reduces the risk of cardio and brain diseases by a 30%, outperforming the effect of regular medicine.
The extra virgin olive oil 100% picual must be consumed within the first year after pressed in order to obtain its great benefits, therefore our usual customers order the family consumption for a whole year. Contact us and we will be delighted to send you our olive oil to any place in Europe, in 3-liter cans, right to your home.
Contact
Should you be interested in knowing more about our olive oils or our estate and the related events, do not hesitate sending us a message through this contact form and we will be in touch as soon as possible. You can also use our Facebook page.